Hedda's first litter: with Buian

born: november 15th, 2008
| | |
| --- | --- |
| | |
| mother: Hedda av Litte kattestupet | father: Buian Malenkovich Nezhny Woin |
| | | | | | |
| --- | --- | --- | --- | --- | --- |
| 1 | male | .. gram | Black tabby mackerel w/white | Sasha (Alexander) | sold |
| 2 | female | .. gram | black torbie (mackerel) w/ white | Soraya | sold |
| 3 | male | .. gram | red tabby mackerel w/white | Sergei | sold |
The kittens are 1 week old in these pictures.
Sasha
Sergei
Soraya
In the pictures below the kittens are about 3 weeks old.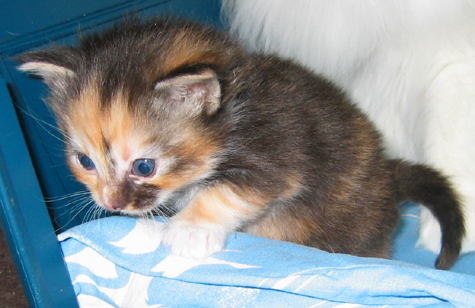 Below: 9 weeks old!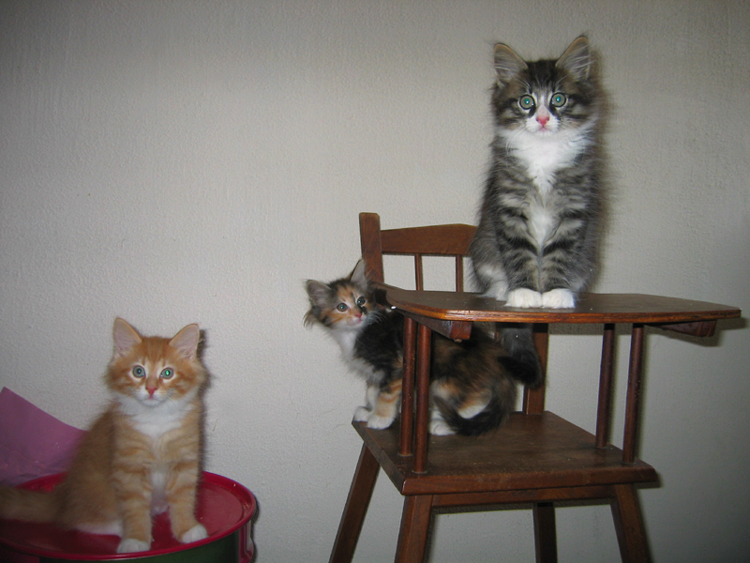 | | |
| --- | --- |
| Sasha | |
| | |
| --- | --- |
| | Sergei |
Soraya
Over here the little ones are 13 weeks old:
Sasha on the scratchingpost.

Soraya on the couch, all snuggled up against Jack and by herself.
And last but not least: Sergei on the couch and on a "snuggle box" on the floor.
These two pictures were taken by © Nicole van Wijk on February 21, 2009.
Sergei and Soraya on the VCR and Sasha on a snuggle box against the heater.
Sasha (now known as Saykima) in his new home.
Soraya in her new home.
Sergei (now known as Pablo) in his new home.