Links to NFO and SIB catteries and other stuff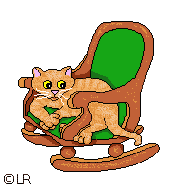 This cat in its' rocking chair has been made by Lucy Rand.
More on her further down.....
names in blue and banners are real links
names in green are pages within this website.
Norwegian Forest Cats
Moondust's

meet Champus, Filou and Beeba, the family of Moondust's Guilty and Jasmijn. Also the new home of Solveigh, Damaris and Hedda av Litte Kattestupet. In English.
The newly published web site of the Moondust cattery, in German only.
Froskeland
the cattery, where our former stud Calle was born.
This is the Swedish cattery of Marika & Michel, where our little princess Mme Pikatchu was born and raised.
Di Randelli
A Dutch cattery, they have a brother and a sister of Dunja van de Prinsejagten.
A Dutch cattery in our home town.
Chat du Nord
A Dutch cattery with a very nice website and some exquisite blood lines! Check this out!!
The Dutch cattery where Yayla lives. Yayla got kittens from Calle January 8th 2002.

A cattery in Sweden I visited September 2003.
Another cattery I visited in September 2003.


A Dutch cattery with great Norwegian Forest Cats and kittens now and then. Home to Gujaclea´s Tyrkir, the father of Sassas' first litter!!

Dutch NFO catteries in one list.
Siberian Cats

The cattery where our Tasha and Clava were born and home to some remarkably beautiful cats!
Meet Nico, Clavas' brother, and his two Neva Masquarade kitty ladies. Website in German only! Recent addition: a beautiful torbie girl!
A lovely Japanese cattery with very good Siberians.
This Russian cattery is worth the time of your visit. See the Siberian Cat in the land or her origin!!

Moskva Siberian Cattery, a cattery in Rome, Italy, with exquisite blood lines and great characters!
Siberian Cats in Belgium!!
This is the Italian cattery where our "baby" Diodor is living. Lucia Diaferia is a breeder of both Siberian Cats and Chartreux.
Find a lot of breeders of Siberian Cats *and* Norwegian Forest Cats from all over the world in their links page!

Here are some other interesting links!!!
Cattery Antouch
A breeder friend, who is going to breed back the original Sacred Birman: big and sturdy!
Cattery Minou Bloe
Another breeder friend, who is into bringing back the original Sacred Birman. Take a look at the boy she brought home from Denmark!
To find the cat of your dreams (Dutch only)

When you are looking for that one of a kind gift for that very special person... look no further! Unique items can be found over here, as well as all kinds of other gifts with cats, about cats, for cats..... T-shirts of The Mountain can be found here at large, as well as other clothing, mugs in all kinds of styles and sizes, jewelry in gold and silver, bags & purses, .......
Also very interesting items for cat breeders and for showing.
Also a lot of items with other animals!!
If you can't find what you're looking for, write an e-mail to find out if they can.....
For now this site is in German only, they will ship throughout the world though!!
A site for all kinds of gifs and computer cat stuff. Have a look, it's fun!!!

This site with animated GIFs and more is a must for all!! Go have a look and enjoy. If you have taken a GIF from this web site, please copy Lucy Rands' banner and add her site to your links!

This is a Yahoo group of cat breeders
in German only...

Free advertising for cats & kittens. In Dutch

Find every thing about the cat in this site!
In Dutch only, but very extensive!!!.

Another Dutch site where you can find kittens of all breeds

A Dutch site where cat lovers can meet and talk about any subject they want (but mostly cats....)

Find information about any thing and every thing. Dutch site.
A Dutch breeder of American Staffordshire Terrier, French Bulldog and co-breeder of Belgian Shepherd dog, owner of several cats and other animals, and also trainer of dogs at the local Canine Club in Dordrecht, Netherlands. Site in Dutch only.
And now something totally different:
Motorparadijs
Where you can find all kinds of Harley-Davidson motorcycles, a motor shop and clothing.
Also home of the fastest Harley-Davidson in Europe !!!!