Jalle
born June 28th, 2002
Jalle is a lovely boy, both in character and in type. He steels potato peels when I am preparing for dinner. He sits with me when I'm busy doing house work or working the computer. With his funny facial expression and his joyous mood he makes me smile every time! He has the looks of his father and the nice long legs of his mom. His fur is still a bit short, but I'm sure it'll kick in some time this winter!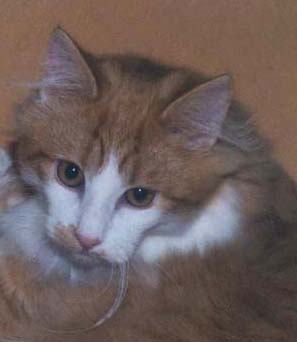 This picture was taken January 16th 2003, as Jalle and Borre were have a play fight. I took out Jalles' portrait to show you how sweet looking he still is at the age of 6½ months.
Don't be mistaken by his sweet expression nor by his innocent appearance when sleepy, this is a thoroughbred hunter! Although he does seem to take his other tasks around the house very serious too..... Almost one year old in these pictures!!
About 1.5 years old in this picture. Jalle has this typical cat-thing: he can lay down any where, and be completely comfy. No matter how hard, soft, slippery or rough the surface, he's fine!
Jalle is a very social boy, who will play with kittens and other young cats.... as long as he is boss! He has inherited his mothers' thick fur, that needs some combing in Spring when cats shed off their winter coat. Even in Summer he still has pretty long hair and that nosey face is just so precious!! He can come up to me to give a head bonk and then sit next to me to watch me do stuff.
About 1.5 years
Summer 2007
back to Jasmijns' first litter