Clavas' first litter: with Malenko

Born: March 25th, 2001 at 23:10 CET

Mommy Clava

Daddy Malenko
see more pictures of Malenko here

We are very grateful for the chance to have Malenko's son! He will stay with us.
Thank you Mr. & Mrs. Drössler!!!

left:
Buian is only a couple of days old here. He was the only kitten in this litter. After he was born I waited for 4 hours, but nothing, absolutely nothing happened! Much to our regret he has no brother or sister.... But mama Clava was happy and Buian had her all to himself, so he started to grow and has done ever since! When he was just a few hours old, his tabby was very hard to distinguish. I had hoped for a tabby blotched kitten, like his dad. Nope, Buian has a coat like a little tiger! He was going to stay any way and it actually didn't matter in the end....

down:
I sent a picture of Buian asleep to a few friends, and guess what? This is what we got back from one of them! Isn't it cute? He is about 1 week old in this picture.
Above:
Larger than life: Buian one week old.

right:
mama Clava was very content with the spot she chose to have her baby! She hardly left the place and Buian stayed on the towel very well. He never even tried to leave for at least two weeks!
| | |
| --- | --- |
| | |
| | But then he woke up... Three weeks old and ready to explore the world! |
4 weeks old, and quite the little Teddy Bear!

Heyup, what's going on there?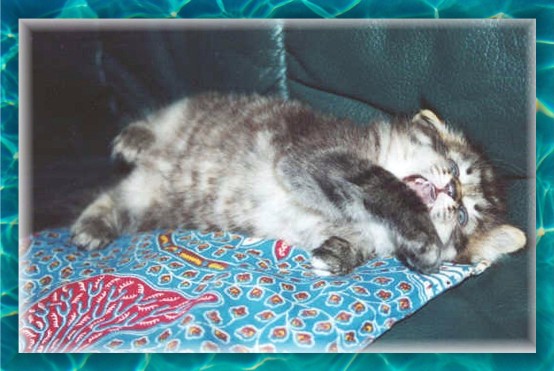 This picture and the following, were taken by Beate Schulz, during a visit to our home. She is very good with borders, picture frames and the likes! Buian is a little over 5 weeks old now and we are expecting a new litter by Guilty and Calle any time soon (see their kittens in their own page) Buian is getting a few play mates!!
The mouse figurine has since disappeared into a safe place...... Buian wanted to play with it and as it is a breakable thing and a gift from beloved people we thought it'd be better off behind glass.
He is such a nosey little fella'!! We find him every where he can climb onto or into. 6 Weeks old in these pictures and afraid of nothing in this world.... As the kittens of Guilty and Calle are yet too small for him to play with, he is still on his own for now. Ain't he got the cutest face??
7 Weeks old and growing like weed!
8 Weeks old in his favorite sleeping place....
3 Months old and lying quietly by himself for a moment....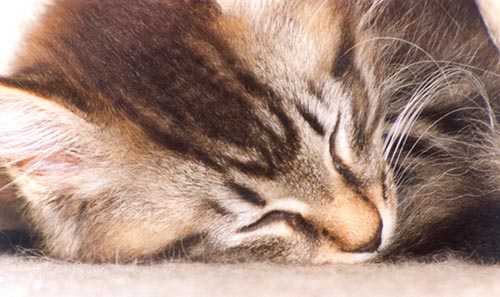 Continue to Buians' adult page