Sassa
born June 28th 2002
I was hoping for a red & white girl, as I just love the colour, and there she was!! Over 5 months old now, she has been developing into a lovely young female, with a 'spicey' temper and a soft coat. That's the drawback of red: the coats can turn out really soft and may start to matt at some time. It doesn't look like hers will however, but the future will tell! She is quite independent and loves to play with her big brother Borre.
This is her twice! These pictures above were taken January 16th, 2003.
The pictures down lower were made June 2003. Sassa loves the garden and turned out to be a formidable hunter of flies, mosquitoes and any thing else that has legs and/or wings.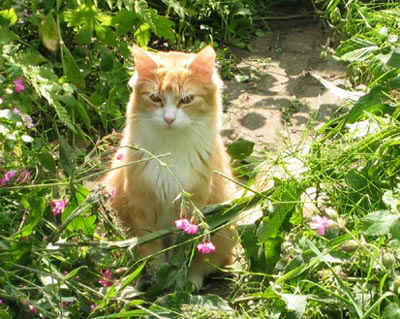 Sassa on February 1st, 2004: she's an adult queen and she knows it!

Sassa in the snow 2004.....
Sassa went to see her lover boy Gujaclea´s Tyrkir in April and we´re expecting their kittens around June 21rst. Find Tyrkir in the links page at Håret Landstryker.
The kittens have arrived on June 18th 2005!! Tyrkir and Sassa surprised us with 6 little red boys. We haven't laughed like this for a long time! Find them in their own page here.
Sassa found a second lover boy in Thule's Snøprinsen. They became best friends while she was there and had a great time together. They gave us three beautiful kittens: 2 boys and a girl. Find them in their own page.
Sassa is such a great mother. We wanted to have a third litter from her and found another lover boy in Nordic Mystery's Armodan (Karel). When the kittens are born you will find them in their own pages.
back to Jasmijns' first litter