What's mew?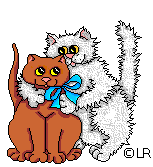 These cuddly cats have been made by Lucy Rand.
More on her can be found in the links page......
February 20th 2006 Not even 4 days old Clavas' little girl died after having lost weight against all efforts.
February 16th 2006 Only days after thinking "she might be pregnant" Clava totally surprised us with two precious kittens.
January 29th 2006 We have lost our very first Norwegian Forest Cat due to renal failure. Dunja van de Prinsenjagten is missed very much.

June 18th 2005 Sassa av Litte Kattestupet gave birth to 6 lovely red boys. We love them to pieces, they are all so very precious!!
June 6th 2005 Five little black tabby Siberians were born at cattery Tikoush!
May 17th, 2005 New link added and temporary page for kittens of a good breeder friend.
Also has become clear that Sassa is expecting kittens from her lover boy Tyrkir!!
February 26th, 2005 Three kittens were born today!! Parents are *S Mar'Michel's Mme Pikachu (Pippi for us) and Calle av Froskeland.
December 31st, 2004 Today we had our beloved Ivar put to sleep as he has been very sick and increasingly miserable the days before. He was autopsied and appeared to have had too small kidneys most likely for his entire life. This condition must have grown worse very suddenly for some reason, making him very very ill, and it made it impossible for Ivar to live on. We miss him terribly and most of all he is missed by his friend Einar....
December 4th, 2004 The day that Magadan and Malenko were brought to their new home!! They will be living with a great couple. We hope they will feel at home soon. Adult cats need more time to adjust, so it'll be some time before we know for sure... We miss our lovely boys but also think they're much better off now, because they will have two pair of hands for petting and all attention to them selves.
August 30th 2004 Another sad day for our cattery: we lost our dearest girl Marfa. We were hoping to see her kittens some time next year..... We now have decided definitely that Mura will be staying for good, as we were already thinking of keeping her.
May 3rd 2004 New pictures of Kira and Kalisa were put into their pages today.

January 21st 2004 I added two new links in the links page! Check them out: Chacolís and Black Forest Norwegian Forest Cats. A friend & I visited these Swedish catteries in September 2003 and we had a great time there!
November 28th 2003 We lost our dear Holger today.
June 3rd & 4th, 2003 Tasha becomes mother for the second time of a litter of 6!!
March 26th, 2003 updates on pictures! See new pics of Sassa and Jalle in their pages.
March 5th, 2003 another sad day for us: Julka is overrun by a car and dies.....
February 21st, 2003 a sad day at Litte Kattestupet: Guilty died of Decompensatio Cordis. Find her memorial page here
February 4th, 2003 I have added a new link to a breeder of Norwegian Forest Cats: cattery av Stjernenlett. You can find the link in our links page.
February 1st, 2003 please take a look at the page about our breeding policy!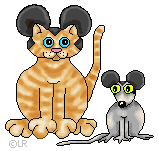 January 21st, 2003 we have decided that Dariia is going to stay with us!
October 3rd, 2002 A very sad day in our cattery: Grigorii dies. Visit his memorial page.
September 14th 2002 Pippi (*S Mar'Michel's Madame Pikachu) and Laksjøens Jonas have become the proud parents of two little purring babies!
July 12th 2002 Clava got her second litter, from Eur.Ch Iwanka Nordlicht this time...
June 28th 2002 The kittens of Calle av Froskeland and Moondust's Jamijn are born. Go see them in their own page.
March 28th 2002 The kittens of Sharikenzo's Yayla and our boy Calle got their own page with a lot of pictures.
March 21st 2002 Gureiko has become available again. You can find him here together with his litter mates!
February 10th 2002 A new page is added: our litters are put together in one page for your convenience!
December 16th 2001 We named the three boys of Colja & Tasha: Grigorii, Godomir and Gureiko. New pictures are added to their page. Go take a look!!
October 29th 2001 I added the link to Sibirientaigas Siberian Cats, finally... In our links page under Siberian Cats it can be found!

October 28th 2001 This morning the kittens of Int. Ch. Iz Ermitage Benjuschka Tasha and Gr. Int. Ch. Iz Ermitage Colja were born.
October 27th 2001 The pictures of Pantheras' litter with Calle got a place in this web site.
August 31rst 2001 Julka got a page of her own
August 26th 2001 Pippis' page is ready. Take a look at our little princess!
July 23rd 2001 new pictures of Guilties' kittens. They're about 12 weeks old now. Take a look at them in the kittens' pages.
June 23rd 2001 Pippi got a new friend: Galina Julka, all the way from Russia!! Julka will have a page of her own shortly too.
June 17th 2001 our little princess Madame Pikatchu (but we call her Pippi) came from Sweden to our house. She will get a page of her own shortly.
May 2nd 2001 Guilty and Calle have become the proud parents of 4 beautiful kittens!! Find them in their own page.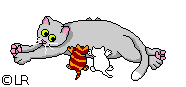 April 12th 2001 a new link to cattery Minou Bloe in our links page
March 25th 2001 we are very happy to announce that our Clava has given birth to a son! Pictures will soon follow and can be found in Clavas' page.
March 16th 2001 the link to Froskeland is finally made!! Our Calle was born and raised in this cattery.
March 3rd 2001 link to van Iceberg, where Wegies are bred, but in future also little Siberians will be born. By the way: check out all the kittens that have been born in several catteries lately!! All can be found at the links page
February 28th 2001 new link to Ramsypamsy, one of the most gorgeous sites I've seen in a long time!!
February 14th 2001 Solvar has found a family for himself. He is very happy living with his new humans, two dogs and four other cats!!
January 25th 2001 I added the link to the new website of cattery du Palais Monplaisir. For now in German only, but their page in our web site (English) is still there too!
January 24th 2001 New link: Maine-Coon Fabulous and Juri's Here you find some of the most beautiful Siberians and Maine Coons of Germany!!
January 20th 2001 Latest addition to the site: Ypma!!!! Find out more about their Siberians at links....